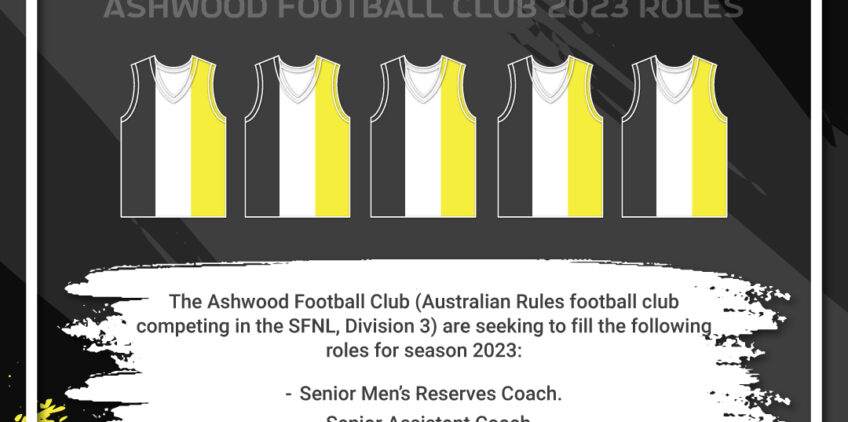 The Ashwood Football Club (Australian Rules football club competing in the SFNL, Division 3) are seeking to fill the following roles for season 2023:

Senior Men's Reserves Coach.

Senior Assistant Coach.

Senior & Reserves trainers for the 2023 season and beyond.

 Reporting to the Senior Coach, the successful applicant or applicants will demonstrate strong leadership and communication skills in the development and progression of the playing group.
Key coaching objectives include:

Coaching our Reserves team on gameday.

Assisting the Senior Coach with training during the week and on gamedays.

Assisting the Senior Coach with development of our football strategy, including designing and implementing the men's training program.

Assisting the coaching staff with player recruitment, player retention and skill development.

Assisting with team selection every week.

The successful applicant will be able to demonstrate the following:

The desire and drive for personal and team success, with a focus on assisting the club into higher divisions of the SFNL.

Excellent interpersonal skills, including leadership and communication in driving the culture of the players, support staff and the club.

Coaching experience is not required, but preferred.

Ability to identify and recruit new players and officials to the club, including support staff as required.

An outgoing personality, engaging with members and club sponsors.

Applications should submit qualifications and experience to Phattersley04@gmail.com by COB Friday the 2nd of December 2022.
Enquiries relating to the position can be made to Paul Hattersley (President) on 0416 200 157.
About the Club:
Founded in 1985, the Ashwood Football club fields two Senior Men's teams and has a Junior football division.
The club is based at Outlook Rd, Mt Waverley.